Subho Bijoya English meaning is "The Auspicious Victory". Shubo Bijoya is celebrated from the last day of Durga Puja for about a period of one month after Durga destroyed the demon Mahishasur in a ten-day long battle.
Download Subho Bijoya Images, Greeting, SMS, Messages, Pictures & Wishes
Bijoya also called as Vijaya. As you already know Dashami is the 10th of Navratri. It is the day when we worship
Maa Durga
. Indian people celebrate this event with full joy and happiness. They celebrate Vijaya Dashami with parents, relatives, friends and loved ones by sharing Vijaya Dashami Wishes, sweets, gifts and blessings. if you are from Bengali community, i am sure you are looking for
Subho Bijoya Images, text messages, cute quotes and sayings in Bengali and English
. Below you can find all stuff related to this fest.
Subho Bijoya Wishes in Bengali and English
1. "Dhaker Awaj holo Mridu, Mayer hasi holo Mlaan,
Ebar Mago biday tobe Asche bachchar abar hobe,
Sabai ke Ma rakhis sukhe,
Bijoya hok MISTI MUKHE.
SUBHO BIJOYA."
2. "Sango holo pujor bela, Aaj mayer jabar pala,
Asche bochhor aabar hobe, Mone te ei aasha robe,
Suru holo sindhur khela, Bijoya sarbo ei bela,
Tai aamar bishesh dhara, Sms e Bijoya sara,
Shubho Bijoya."
3. "Dhaker kathir biday sure, Udas kore mon
Chollen Ma Mahamaya, Aajke bisarjan !
Dhaker taale dhunichi nachon,
Etai prachin riti,
Moner frame -e bandhiye rekho Durga Pujor smriti !"
4. As the candlelight flame
Ur life may always be happy,
As the mountain high
U move without shy,
As sunshine creates morning glory
fragrance fills years as Flory,
All darkness is far away
As light is on its way."
5. "Pujor Sesh Diner Alo
Mon Bharay Dukher Kalo
Monpoter Kon Thikanay
Pujar Sei Smriti Roye Jay
Monke Sudhu Bojhai Tobe
Asche Bachhar Abar Hobe !"
6. "Dhaker Awaj Miliye Gelo, Pujo Holo Sesh..
Prane Sudhu Jagiye Rekho Ei Khusir Resh..
"Subho Bijoya" 🙂."
7. "Pujo Sesh Oli Goli,
Ma Bale Choli Choli.
Bhasan Hobe Fatafati,
Bijoya Sarar Hutopati.
Eta Mar Natun Dhara,
Sms-E Bijoya Sara."
8. "Dashamir Ei Sondhe Bela
Saango Holo Sindur Khela,
Ma Er Ebar Ferar Pala,
Chokher Jal-E Bidai Bola,
Ma-Er Holo Samoy Jabar
Aasche Bachor Aasbe Abar.
Subho Bijoya."
9. "Pujor Diner Khusir Haoa,
4 Dene-Te Perie Jawa,
Mayer Jawar Din Holo Aaj,
Subhecha Tai Janie Deoa.
Mon Bole Aaj Dhaker Tale,
Asche Bochor Aye Ma Chole..
Suvo Bijoya…!!."
Subho Bijoya Greeting Cards and Animated Images

More Images and sayings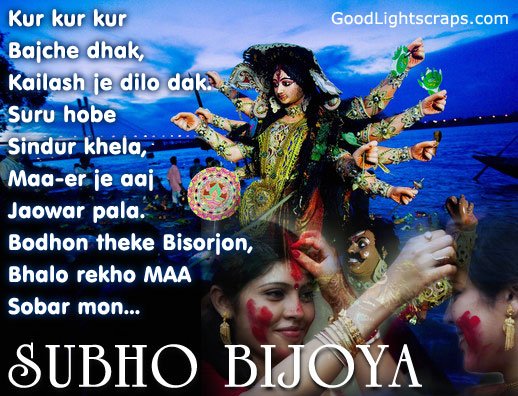 More Images and sayings
Subho Bijoya